Sometimes stories break and they defy belief. This is most certainly one of them.
Dequalan Harris drove 1,150miles from Texas to Ohio to meet a woman.
What wrong with that? I hear you cry. He had driven to meet the woman in his wife's car – with his wife in the trunk. 
Tamara Harris, 33, and Dequalan Harris, 35, from Cedar Hill, Texas, had been in the process of getting a divorce. Tamara was reported missing to the Cedar Hill Police by family members on Friday.
They hadn't heard from Tamara or her young child in several days. To try and find Tamara, officers used the OnStar system in her 2015 Chevy Traverse.
They were able to locate her car in Mansfield, Ohio, about 1,150miles away from Cedar Hill.
Mansfield Police found the SUV parked on the street.
Tamara's estranged husband was inside one of the homes with another woman on Saturday morning.
Demika Rucker, Dequalan's girlfriend, lived on the street where Tamara's car was found.
She said he arrived around 3.30pm Friday after the approximately 17-hour trip.
Dequalan told police he hadn't seen Tamara since Thursday when he picked up her child from her home.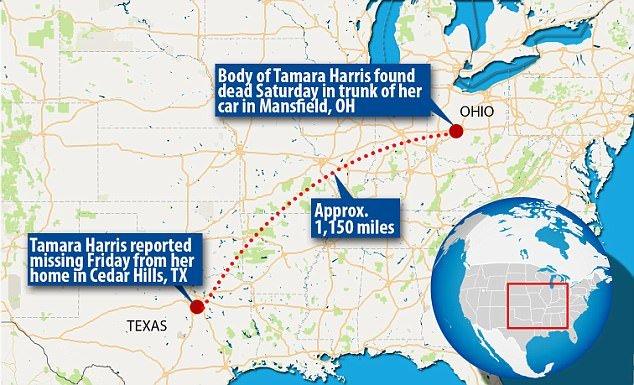 Mansfield Police arrested Dequalan after he tried to run away. Before towing Tamara's car, officers tragically found her body in the trunk.
Dequalan is being held on charges including resisting arrest, obstructing official business and abuse of a corpse, which is a fifth-degree felony.
He plead not-guilty at his video arraignment at Richland County Jail in Ohio Monday.
Mansfield Municipal Magistrate Phil Naumoff ordered bond be set at $1million. 
The child who was found with Dequalan is in custody of Children's Services in Ohio. An autopsy on Tamara's body will determine her cause of death.
Officials have confirmed there had been a previous non-violent call involving Dequalan and Tamara.