Celine Dookhran was a beautiful, vibrant and intelligent young woman.
But tragically her body was discovered stuffed in a fridge. Her crime? Falling in love with someone from a different background.
Celine who came from an Indian Muslim background, fell in love with someone of an Arab Muslim heritage. 
She was kidnapped by masked men alongside another woman on Wednesday. Both women were bound, gagged, tasered and then subjected to rape at a house in South-west London.
In a court hearing it was claimed she was snatched from a shower in her home, tied up with duct tape and rope before being bundled into a vehicle. 
This all because Celine started a relationship with an Arab Muslim.
Celine's murder only came to light when the other woman, who is in her 20s, survived the ordeal.
She bravely raised the alarm after being raped and having her throat slit. She is recovering in a hospital bed.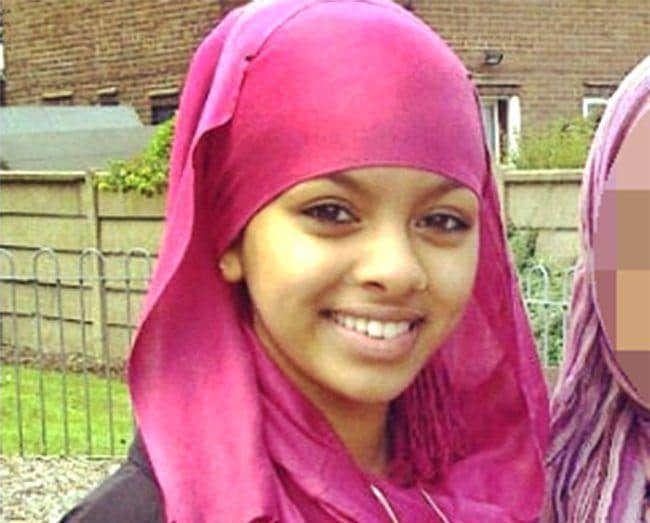 However, Celine tragically lost her life after she had her throat slit by her kidnappers.
Her death is being treated as a so called 'honor killing'. 
An honor killing is when a person is murdered due to the family members belief that the victim has brought shame on them. 
33-year-old Mujahid Arshid appeared before Wimbledon Magistrates' Court, where he was charged with murder, attempted murder, kidnapping and rape.
The builder allegedly raped Celine before fatally cutting her throat.
28-year-old Vincent Tappu also appeared in court and was charged with the kidnap of both women.
Celine was a normal happy teenager and was born in Wandsworth, South London in 1996.
She was the eldest of three children. Her 3,445 tweets also contained posts about make-up, work, looking after her brothers, and fasting during Ramadan.
Her last tweet showed the devout Muslim put God first in all she did: 'Alhamdulilah [praise God] for everything that's all I can say.'
Our thoughts go out to this beautiful young woman and all who love and miss her.