Tiny pieces of art can make the place beautiful. I'm eager to make something like this in my home. There are a few places in my home that are blank or boring and desperately beg for something like this.
If I introduce these things to my husband, there is a huge possibility I will be sleeping outside.
Jokes aside. I'm addicted to re-decorating, and sometimes I can be annoying with something I want. I found a perfect strategy how to make my husband want something as bad as things.
Here is a hint: everything hides in the presentation. If you get him to feel warm and imagine himself in the new environment, you can get him to invest in everything.
Don't tell him I said this.
You will fall in love with these tiny pieces of art that are spread all over the place. A stop sign or a sidewalk could be transformed into something that will attract your attention and make your day.
It's amazing how these artists have an open mind about everything. It's like their eyes are seeing different than ours.
I just love them. Their minds are beautiful.
Check these tiny pieces of art, and you are going to have the same opinion as me.
2. Unknown author
3. Authors: Adam Okuciejewski and Szymon Czarnowski.
5. Unknown author
7. Author: Alexander Haytov
10. Author: gotemyey.
11. Unknown author
12. Author: Buttonose.
14. Author: Oakoak.
15. Author: Secretlakr.
17. Author: Oakoak.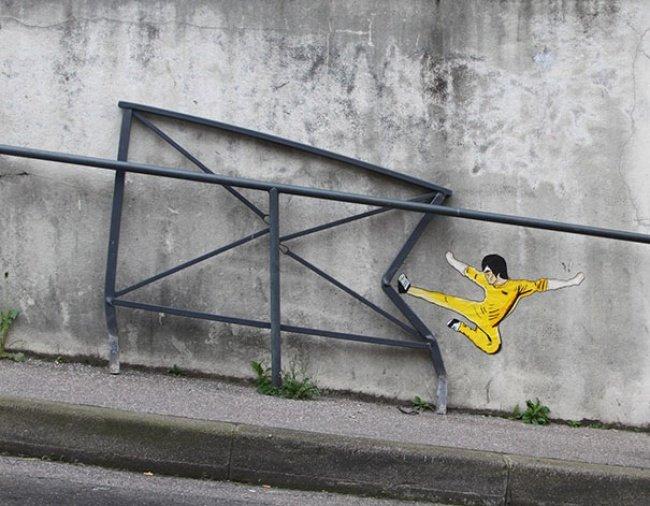 18. Author: spacergnome.
19. Unknown author
20. Author: Оakoak.
Creativity beyond borders!
Have you spotted something like this in your neighborhood?
READ NEXT: Young Artist Promotes Healthy Eating By Turning The Plate Into A Canvas
Don't forget to share this with all of your friends. Maybe your community could hire these street artists to do something similar.
Source: Bright Side